Why Work for C.R. England?
From our roots as a modest family operation, C.R. England has grown to become one of the nation's largest, most diversified transportation company in the nation. At C.R. England, we know that our most valuable asset is our people. We strongly hold the belief that each individual should have the support and opportunities they need to build a solid career with us.
As we continue to grow, so do opportunities for non-driver employees, offering numerous types of careers to best fit each skill set and experience. From managing operational teams to customer service to recruiting to corporate marketing. We have opportunities that fit strengths in your career. If you have never thought about a career in transportation, now is the time.
We are C.R. England. Welcome to our family.
Community Involvement
Join us in the fight to end childhood hunger
C.R. England is on a mission to feed one million children per year through organized donations from business transaction proceeds, volunteering with partnered food banks across the nation and team driven food drives.
We believe that proper nutrition and consistent meals lead to greater happiness and success in the lives of children. With the help of community food banks across the nation, we are committed to ending childhood hunger. Together, we are One, united against childhood hunger.
The C.R. England Family
C.R. England enjoys a rich culture of innovation, history of expertise, and over 100 years of industry and business longevity. But when it comes to our culture, who we really are, we'd like to say we're family.
It's always great to feel like you're a part of something more. And a great team like C.R. England cares for your well-being and career growth. We believe the culture at C.R. England is made manifest through our core values: Safe & On-Time Every Time, We Are Family, Community Driven, and Honor The Crest.
Safe & On Time, Every Time
Safety and service are more than what we say, it's who we are. Whether it's behind the wheel or behind the desk, we are deeply committed to consistently providing world-class safety and service.
We Are Family
Family runs deep at C.R. England. In this family, each individual matters. Through mutual respect and genuine care, we are here for each other.
Community Driven
We are privileged to serve the communities that have supported us for over 100 years. We commit to provide essential services while embracing environmental sustainability. Through our One Initiative, we are dedicated to eradicating childhood hunger, one child at a time.
Honor the Crest
The crest represents all of us in the C.R. England family. It reminds us of our past while we look to the future. As we honor the crest through integrity, professionalism, and pride in our work, our legacy will live on.
Meet our Recruiters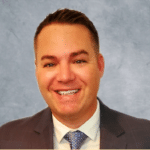 Drew Moore
Drew comes to us with over 15 years of experience in the fields of, finance, education, IT, healthcare, non-profit, and corporate talent acquisition. Drew's ability to develop strong collaborative partnerships with the stakeholders who he supports has been a key component to his success. When he is not identifying top talent, Drew spends his free time outdoors with his wife, and two beautiful children, hiking, camping, fishing, and playing golf. Drew's personal and professional goals are the same, in that he strives to have a positive impact on the people and organizations that he supports.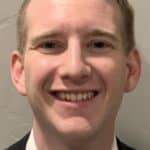 Dylan Drebing
Dylan Drebing has 3+ years of experience as a recruiter. During his growing career he has recruited for roles within the Commercial and Healthcare industries. He enjoys offering people great opportunities where they can develop their skills and find meaningful careers. In his spare time he enjoys playing and watching basketball, spending time with family, and backpacking in the Uintah Mountains.